Today's volatile world has plunged Security and First Responder agencies into a hectic search for effective and reliable wireless communications systems for in-building emergencies and similar compromised situations. As a direct result of terrorist attacks on the World Trade Center and the subsequent prevailing atmosphere, new regulations for First Responder communications are being adopted by fire and police departments based upon guidelines developed by the National Fire Protection Association (NFPA) and in the ANSI International Fire Code (IFC). From day one, BEACOMM has been at the forefront of customizing our RF Combiners and Amplifiers to ensure that any input RF signal is sufficiently amplified by the Distributed Antenna System (DAS), used for in-building emergency communications, to ensure that it can be transmitted to First Responders no matter how critical the situation is.
BEACOMM's engineers support our customers in the Public Safety domain from the design stage offering an innovative approach that fully meets their needs and provides a cost-effective, on-time solution.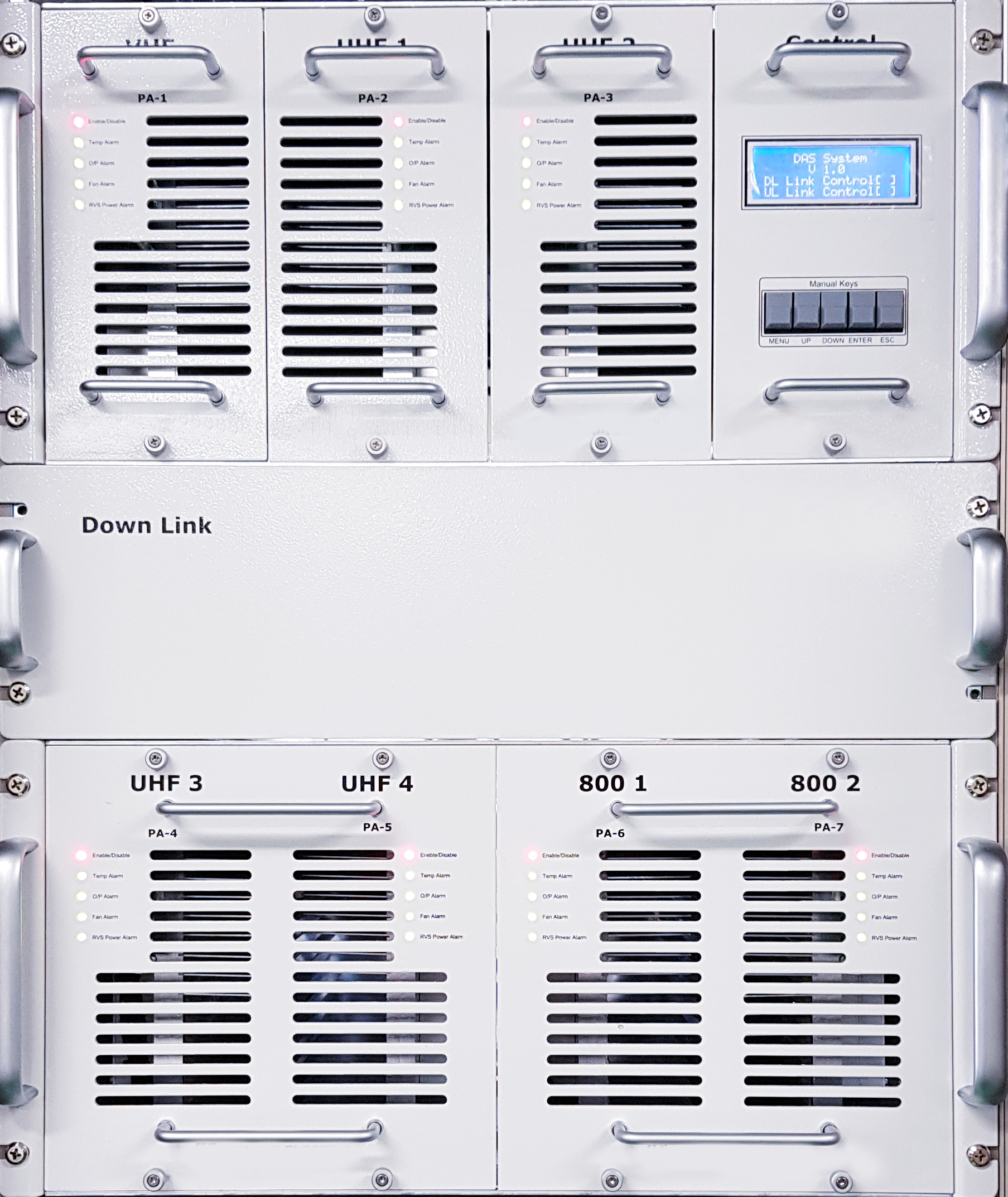 BEACOMM combining systems cover the frequency range from VHF to public safety LTE band (2700Mhz).
input signal power levels from Watts to 250W per port available. BEACOMM combining system designs is per customer specification. For example layout and structure of a systems cabinet or Rack needs to consider mainly rapid and simple installation, we are experienced at designing entire rack systems. This includes responsibility for all cabling and the final presentation of the connections from the BTS out to the fiber optic or RF connection point.
Regarding electrical  performance The  various PA's design at combining systems includes modules as Power Amplifier that amplifies High power@ various bands(VHF,UHF,800,2700MHz)Multi signals.
The Power amplifier input signal is from fiber optic signal, input signal per customer request. The PA module is a 50 ohm output module with protection vs damage at (output VSWR, Over power and high temperature)
The combining system design with attention for achieving  a High IMD and Linearity Multi-tones.  Our combining systems range start from 2 – 14 channel format however more complex systems can be delivered for example supporting up to 24 base station channels.
BEACMM provide passive RF modules from VHF to LTE 2700Mhz including:
Cavity Filters & Mux ( Up to 12 channel MUX)

Combiners

RF Splitters

Directional and Hybrid Couplers  
KEY FEATURES AND HIGHLITES
– VHF-UHF-2700MHz  Systems
– Base Station Installations
– Customized Design
– Reliable and Competitive